Cheddar Garlic Biscuits
By Amy Miller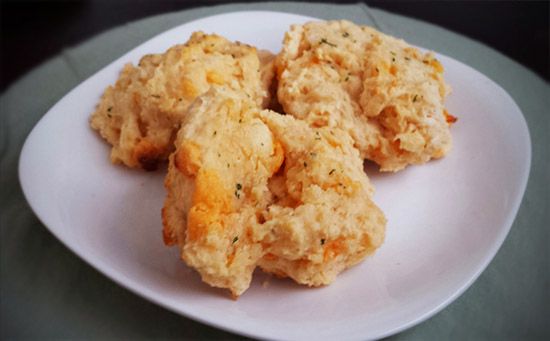 These are a favorite of mine, and probably yours, if you are a fan of Red Lobster's Cheddar-bay Biscuits! I don't know about you, but I eat three baskets full of those every time I go there. They are just that good. Wanna make them at home? You can!
My homegirl Betty Crocker has a Bisquik biscuit mix that tastes so similar to them, that allow me to easily make them at home! These are called, "Cheddar-Garlic Biscuits," and are only $1.12 at Target or Walmart. (I have only found them so far at these chain stores.) This mix is so quick and easy because it just requires a 1/2 cup of water added to the mix, and then you drop in spoonfuls on a cookie sheet to bake for 9 minutes. It has been a perfect solution for adding something fresh to leftovers, or just anytime you need a more efficient side component to meals.
I've been making these for 5+ years, but have recently stumbled upon a way to improve them! I was looking through my mother-in-law's pantry and found a box of Red Lobster brand Cheddar-Bay Biscuit mix! I had never seen it before, since apparently you can only find them at Sam's Club. We ate them that night for Dinner and they were delicious! I took a few notes on how these ones were made, and compared them to my Betty Crocker mix. I found that really the only difference was a butter-herb mixture that is brushed on top of the biscuits after it comes out of the oven.
I experimented this new idea, a few nights later with the Betty Crocker mix at home. All I did was melt 2 tablespoons of butter with a sprinkle of garlic salt and a few shakes of parsley flakes. I drizzled it on each biscuit and it tasted amazing! Almost as if I were at Red Lobster! If you are a fan of these biscuits, you'll love this recipe to try at home.
So to review, to make these yummy cheddar-garlic biscuits (Red Lobster-style), all you need is:
one package of Bisquik brand Cheddar-Garlic biscuit mix
1/2 cup water
2 tablespoons of butter
pinch of garlic salt
parsley flakes
This protege recipe makes 6 biscuits, costs less than $1.50, and is scrumptious!
Tip: It suggest having a few of these kinds of quick-fix foods on hand, because if you're like me, you have AT LEAST 2 days a week that you don't feel like making a big, homemade meal. It's nice to rely on these every now and then, instead of averting to delivered pizza, or fast food too often.