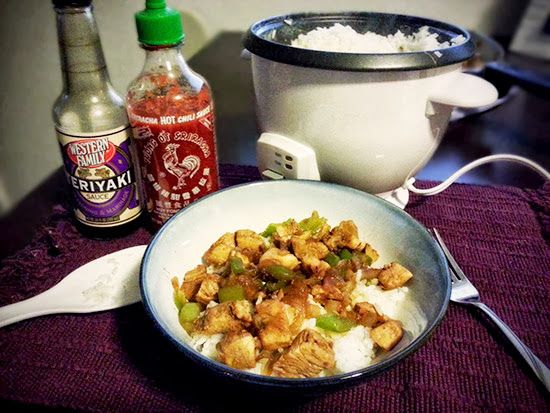 what you need for stir fry bowls:
Rice Cooker
2-3 cups of rice
3-4 cups of water
2 chicken breasts, thawed
one green pepper
one onion
¼ cup of teriyaki sauce
1-2 tablespoons of brown sugar
Add rice and water to a rice cooker, as directed in the appliance instructions. This takes about 20-30 minutes to cook.
While that is cooking, cut the chicken in bite-size pieces, and cook in a skillet on the stove with a little bit of olive oil. Cook it at a medium-high heat.
Slice up the pepper and onion, according to desired size. By the time these are cut up, the chicken will be about done. This is the time to throw in the peppers and onions.
Pour teriyaki sauce into skillet and stir it around, spreading the love. (I usually add more to my personal bowl later on, because I love it.)
Sprinkle the brown sugar all over, and stir it, so it dissolves in the liquid-y mixture. This will give it a little bit more sweet taste. Cook in pan for another 2 minutes.
By this time, the rice will probably be done cooking in the rice cooker. You can mix the rice into the skillet, or serve separately.
Done. Yummy. Eat.
This always provides us with at least one serving of leftovers, which is great for a lunch the next day! We love rice and how healthy it can be, and the protein and veggies are a huge bonus! No sides are necessary, unless you feel like it, and it can be made within 30 minutes. We love it and hope you try it.
Want to make it even more simple? Use frozen green peppers, frozen onions, instant rice, and already cooked and cut frozen chicken.