The Acker Family
By Amy Miller
[caption id="attachment_1418" align="aligncenter" width="450"]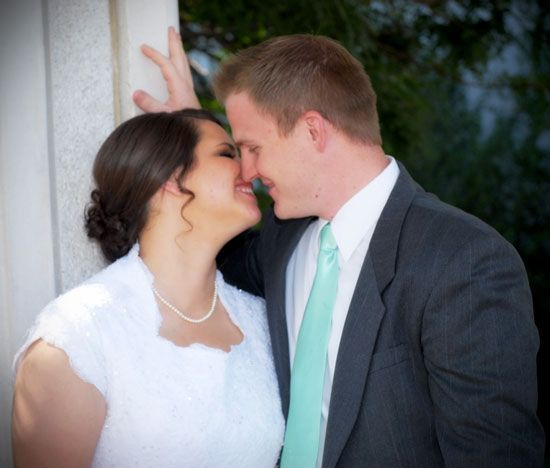 Hello, We are the Acker's![/caption]
In the short time we have been married, we have learned so much about marriage and about each other.  One important thing that I have learned is COMPROMISE!! Compromise is so important, especially if you and your husband have different interests, like Josh and I do.
When Josh and I got married, we promised each other we would not be the stereotypical American couple that ends up in a divorce court in 5 years.  We also promised each other we would always keep our marriage "fresh" so this is what we do:
Attend our Latter-Day Saint Temple regularly.  It helps us remember the covenants we made to each other and to our Heavenly Father.
Go on lots of dates and do fun stuff ALL THE TIME! It doesn't have to be expensive.
Be willing to swallow your pride and say "I'm sorry."
Tell each other what you love about each other everyday.
Serve one another.
It's not 50/50. Marriage is 100/100. Always remember that.
Snuggle regularly :) it has magical powers.
Gratitude. Remember to show gratitude to your spouse for the things they do for your marriage, and to God for blessing you with an eternal family.
Marriage takes work, but it is all worth it and it is so wonderful! There is nothing better than being with your best friend for eternity!
Keepin' our marriage fresh, Katherine and Josh Acker